Prioritize your hottest leads with Surge
Spotlight the accounts that are showing intent across multiple channels and sources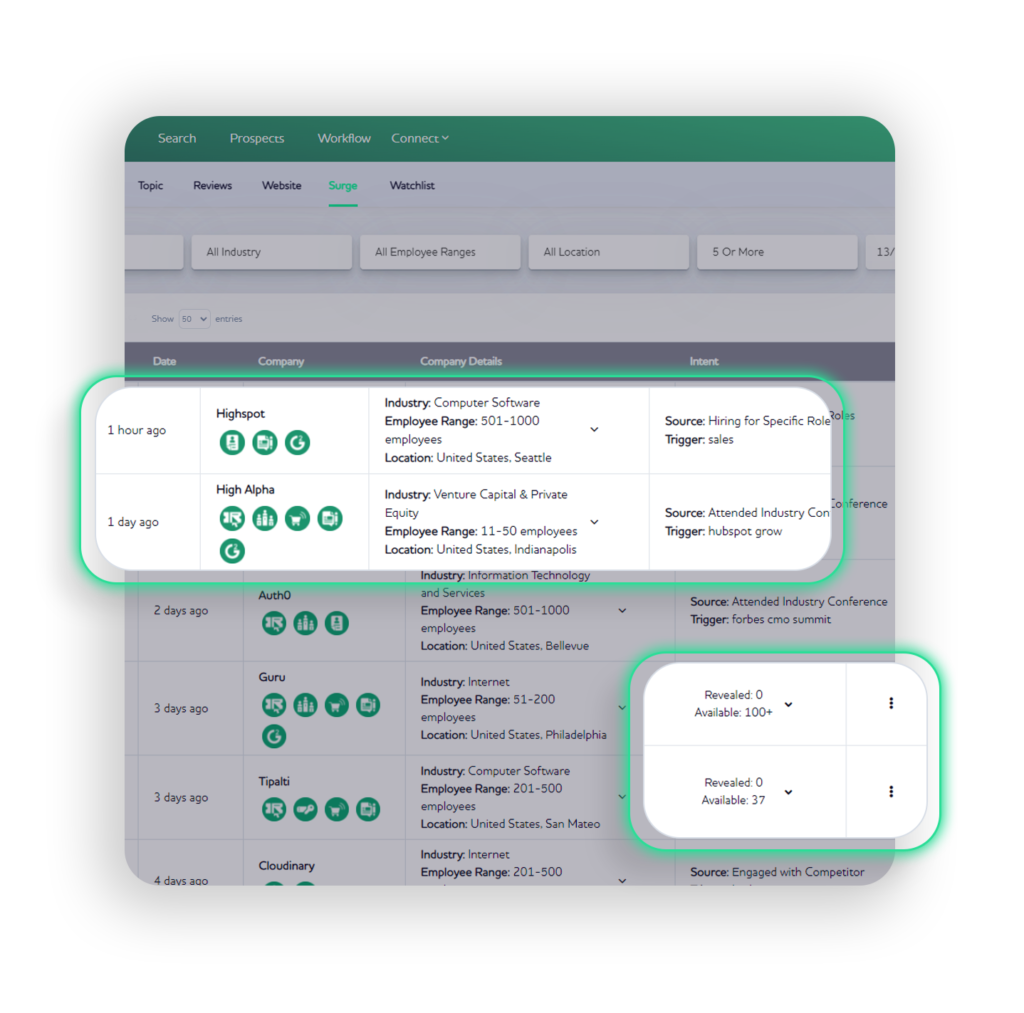 Deliver new leads faster with insight-driven intelligence
Prioritize ready-to-buy sales leads and convert more business based on what's happening within an addressable market. Target people who have been visiting your website, looking at your competitors, reading reviews and actively searching for topics related to your business. Create a watch list and we will alert you when your target companies are surging with intent.
Prioritize buyers with a clear
Intent to Purchase
B2B Buyers with a clear intent to purchase will conduct extensive research weeks, sometimes months before engaging with a supplier. They will typically research their next purchase by reading around the subject, attending events and talking to vendors. To help you identify buyers who are in that research stage and put you in front of them early, Lead Onion captures their intent signals and shows them in real time so that you can quickly and easily prioritize the leads who are displaying clear intent to purchase.
Act on real-time intent triggers immediately
B2B buyers prefer vendors who can clearly demonstrate they have knowledge of their business and can offer solutions that solve the problems they are facing now. Lead Onion shows you which of your target accounts are displaying clear intent signals related to your product or service.
Are you a recruitment consultancy looking to target companies seeking new candidates? No problem, our intent engine will show you companies who are hiring.
Are you a tech company seeking opportunities to acquire new customers? No problem. If you are a G2 customer our G2 Review tool will show you companies who are actively reading reviews on G2 the largest and most trusted software marketplace
The options are limitless. Book your demo today to see it in action.
Individual, bulk or automated reveal
You're in control
With Lead Onion you will have 18 powerful intent sources at your fingertips to help you quickly identify in-market companies and capture up to date contact information for their key decision makers. You can prioritize the best leads according to how well they score during the lead qualification process and best of all you reveal only the contacts you wish to target. You can manually reveal individual contacts, select any number and do a bulk reveal or you set up rules to automate your reveals and truly streamline your prospecting.
See how Lead Onion helps B2B organisations like yours use real time intent data to engage with buyers when they need their solutions most.